I see the looks from other people, I can almost read their thoughts- "How can you afford to be a stay at home mom?"
To which I reply (in my mind of course) "because I can't afford not to be!"
There are so many benefits of being a stay at home mom. Too many to count.
There are the obvious benefits like saving money on child care, lunches out and of course, there's no work wardrobe required.
But mama, there's oh so much more than that!
Getting to be with your kids every day and raise them the way you see fit is priceless, it really is.
Being present for all of their firsts, being there when they're sick, and getting to be the one they run to when they get hurt, are excited, or just want a hug is worth more than money can buy.
I think people underestimate  the importance of being a stay at home mom. As someone who has been home with my kids since my first baby was born 27 years ago, I've heard it all.
"When are you going back to work?"
"What do you do all day?"
Oh and my favorite, "She's JUST a mom!"
Society has undervalued mothers as a whole for way too long now. Our decision to be the primary caregivers of our own children is looked at with contempt, as if we're doing this to somehow 'get out of' our duty to society and what some deem as important, aka working outside the home.
Personally, I'm tired of it. I've been tired of it for years,  since way before I started writing back in 2009.
I'm fed up with society trying to discount the value of a stay at home mom.
I'm sick of people trying to suck the joy out of SAHM life!
Maybe you're even thinking to yourself "I want to be a stay at home mom", but you're not sure how to go about it.
Luckily I know a little bit about becoming a stay at home mom, and I'd like to encourage you by sharing my experience and a few tips with you.
How to Be a Stay at Home Mom
First and foremost, let's talk about what a stay at home mom actually does all day.
Housekeeping
As a SAHM, you of course get to do all the daily housekeeping duties like cleaning, laundry, picking up toys, dishes, picking up toys, vacuuming, and picking up toys. You get the picture.
Meal Prep
This includes meal planning, prep and cooking.
Caring for the Kids
Dressing, bathing, combing hair, brushing teeth, changing diapers, the works! Whatever the kiddos need, you're there to provide!
Spending Time With Your Children
Playtime  (yes, you get to play!), reading, cuddle time. Each and every day you get to spend time with your little lovies!
Errands & Shopping
Whether it's buying groceries or other household necessities, it's usually the stay at home mom that does these shopping trips. Also errands such as going to the post office, picking up dry cleaning, etc.
Financial Management
Now this isn't always the case, but many moms who stay home do manage the family finances. Budgeting expenses, balancing the checkbook and paying the bills all fall under this category.
Taxi
Once your kids are in school, you also take on the roll of taxi driver. Between transporting to and from school, appointments, extracurricular activities, you'll find yourself in the car a lot more than you ever thought you'd be.
Those are some (but certainly not all) stay at home mom activities.
If you need any more reasons to stay home with your kids, according to science, it actually changes your baby's brain.
Becoming a stay home mom will change your life.
You might be asking yourself  "How  can I afford to be a stay at home mom?".
This is a great question, and the answer is different for everyone, because everyone has different circumstances. But I'm going to give you a few tips that I think can help you in almost any situation.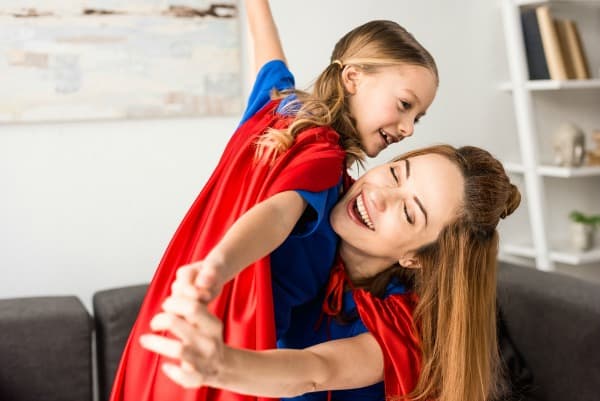 Can  You Afford to be a Stay at Home Mom?
Evaluate Your Income
It's important to know where you are financially when you're considering becoming a stay at home mom.  It's tempting to say "oh we can't afford for me to stay home," but chances are, you probably can if you're willing to do what it takes. I'm not saying it will be easy, I can tell you right now that it definitely won't be! But it is doable.
Take a look at this stay at home calculator. Plug in your numbers and look at what you really need to be able to make this dream a reality.
Make Adjustments
Cut back on things that aren't necessary. Yes, you will have to sacrifice. How much or on what types of things all depends on your household income and expenses.
Find creative ways to save money when you can. It might take just a few small changes to be able to afford to stay home. Or it could be you have to sacrifice a lot such as new cars, vacations and some extras. Really think about what's essential in your life, and go from there.
Related: Ways to Save Money as a Stay at Home Mom
Reevaluate Your Priorities
Speaking of making adjustments, a good way to do that is to reassess your priorities. What do you really need in your life right now?  A new car? Cable? New clothes?
When it comes to making purchases or even deciding whether or not to keep a service, ask yourself questions like:
Do I really need this?
How important is it to me?
Is it more important than getting to stay home with my kids?
Now I'm not saying as a SAHM you shouldn't have any extras, or that you can ever spend money on anything…when you have the money. But if you're looking for ways to cut back to make your dream of being a stay at home mom possible, you'll have to make some choices and that usually starts with asking yourself some hard questions.
It sort of boils down to what's more important, things or people? Being able to buy the latest toys, the hottest clothes and go on the best vacations, or being home and available for my child?
Now maybe that's not your situation. Maybe those things I mentioned above aren't what this decision is about for you. Maybe it's a matter of can you pay the rent/mortgage, car insurance and put food on the table?
I still say it's possible if you have a partner who is on board with you staying home! Yes you might have to get creative in your ideas, and again, you'll definitely have to make sacrifices. But mama, they're so worth it!
*Now if you're a single mama, this isn't meant for you. You have an entirely different and unique set of circumstances, although I do know single mamas who have made working from home a priority and were still able to be home with their kids. Check out Sarah Titus for inspiration. However, this isn't my area of expertise as I've always had my hubby by my side, so I'm not the best one to give advice on how to do this as a single mama.
Work at Home
Find creative ways to earn while home with your kids if necessary. One of these days I might write a post about working from home, but not today!
But there is so much info out there on the subject, but I will give you a few work at home ideas:
Become a Virtual Assistant
Sell Your Own Products
Start a Blog
Be a Freelance Writer
Work Remotely for a Company
If you'd like more info about working at home, the best advice I can give you is to check out The Work at Home Woman. They have a ton of information there and so many great resources.
Becoming a Stay at Home Mom
Have you decided to become a stay at home mom? If so, I'm so happy for you!
I'd like to suggest some stay at home mom resources that will help you in your journey.
Learn how to be a happier stay at home mom here.
Find encouragement for stay at home moms in this post from Time by Angel Hamilton.
Do you need a stay at home mom schedule? Find out here!
If you want to find a stay at home mom job, this is a great place to start!
Here's some advice for the overwhelmed stay at home mom.
You have to read this post from Matt Walsh, a dad answering the question what do stay at home moms do all day? ( I absolutely LOVE his post!)
Think you can't make a career out of motherhood? Have a look at this post over at Huffpost from Judy Mollen Walters, it gives me all the feels!
I hope you've found this info on how to be a stay at home mom helpful! If you have any questions, I'm happy to answer them below or on my Facebook page.
If you enjoyed this post, please Pin it!