When my kids were small  they always wanted to be where I was, so I had to find ways  to organize toys in the living room.
This can be a challenge, especially if you have a small living room- toy storage ideas are absolutely necessary if you're going to keep that room a place for adults, too!
So if you're feeling overwhelmed with all the toy clutter and looking for ways to organize your living room, this post is for you!
Related: Realistic Organization Tips to Make Your Home Appear Cleaner
How to Organize Toys- Living Room
Toy Organization Tips
Hopefully these tips can help keep your living room in order most of the time. Okay, well some of the time!
Give each child their own toy basket. That means they are responsible for the toys in their own basket, no matter what.
Pick up what they get out at the designated time. That could be at a certain hour, before company comes over, or at the end of the day…it's totally up to you. As long as they know that whatever they get out from the living room toy space, they have to put back when it's time.
Only allow a minimal amount of toys in the living room. Every single toy in the house doesn't have to be stored in this room (hopefully!). Keeping control of the volume is crucial in being able to keep the room clean and tidy.
Declutter on a regular basis. Having too many toys is the biggest hurdle when it comes to keeping toys organized. Ask me how I know this!  Making sure you're sorting through toys on a regular basis and getting rid of those that are old, broken or just don't get played with any more really makes a big difference.
Categorize Toys
Having toys categorized helps in keeping them organized. For example, all the action figures go in one basket, legos in another, etc. rather than having everything dumped into one bin. This way the kids can take out only what they want to play with.
Having a clear category for each toy group also makes it a whole lot easier to label your toy containers if you choose to.
I found the ones below on Etsy that are super cute and affordable!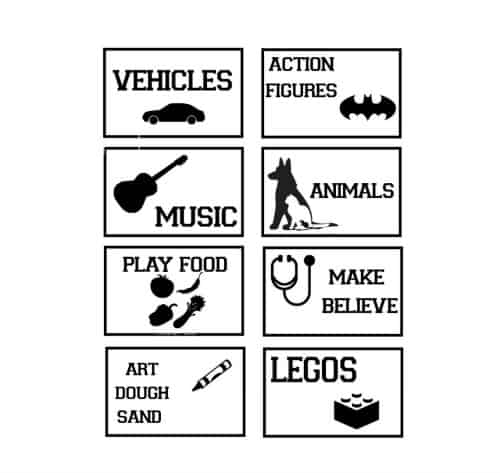 Rotate Toys in Living Room
Although you might not think this helps with how to organize kids toys, but it really does. Hear me out.
Setting up a toy rotation means there will be fewer toys actually in the living room to keep organized. When the kids seem a bit bored with their current selection, simply swap them out for some "new" toys, and store the old ones in the closet, basement, garage, or whatever space you use for storage.
These work really well for toy storage. You can label them if you want, but they are clear so your child can see the contents even if you don't.
I love this video from Kathryn over at Do it on a Dime about how they use Toy Rotation at their house!
Toy Corner
Creating a space that's designed solely for the purpose of storing toys is one option for keeping your living room nice and tidy.
Toy corner ideas might include a dedicated space where toys can be kept, but also If you have a large enough living room you can create a devoted play space. I did this when my kids were babies. I had their toys and a thick blanket laid on the floor in the space between our couch and chair. It was kind of like a little toy alcove where they could play right where I could keep an eye on them.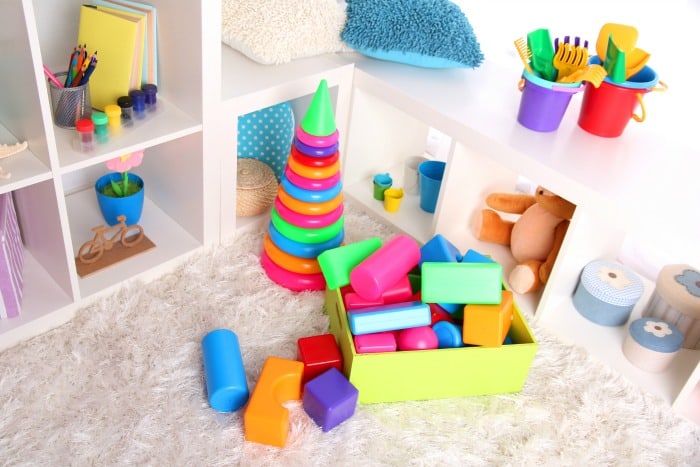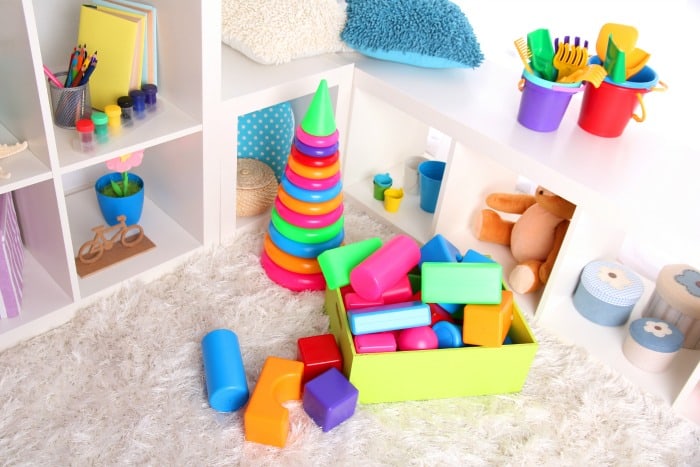 Living Room Storage Ideas for Toys
 Baskets
Utilizing baskets for toys in the living room is one of my favorite ideas. I like it for multiple reasons. First off, it's much easier to rotate toys as I mentioned above. This way you're keeping the toys your kids are playing with fresh.
Secondly, there are such a wide variety of stylish baskets you can use for living room storage. And you can find something to go with any type of decor.
Modern Toy Storage for Living Room
There is living room toy storage furniture such as toy boxes and shelves that are designed specifically for keeping items picked up and tucked away nicely.  Many items have a modern vibe that can go quite nicely in a main living space.
This wooden trunk for example makes a great toy box! It's a nice choice when it comes to keeping toys handy yet out of sight when not in use.
Also bookcases paired with stylish bins make a great option for keeping toys arranged. Items are not totally out of sight so the kids can still grab them, but they're stored nicely when not in use.
Some already have the cubbies and then you just buy the fabric bins to insert. These work so well and we had at least a couple at our house!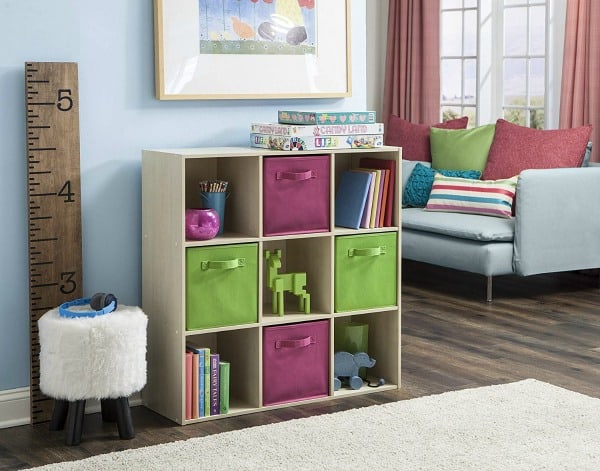 An ottoman is another easy option to add a little space for toy storage in the living room. They come in different sizes and can hold anywhere from a few stuffed animals to a ton of Legos! This works really great as the toys are totally out of sight when not in use.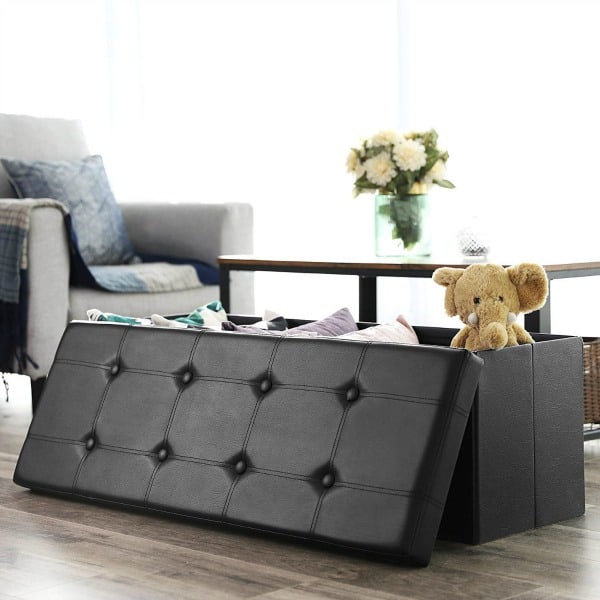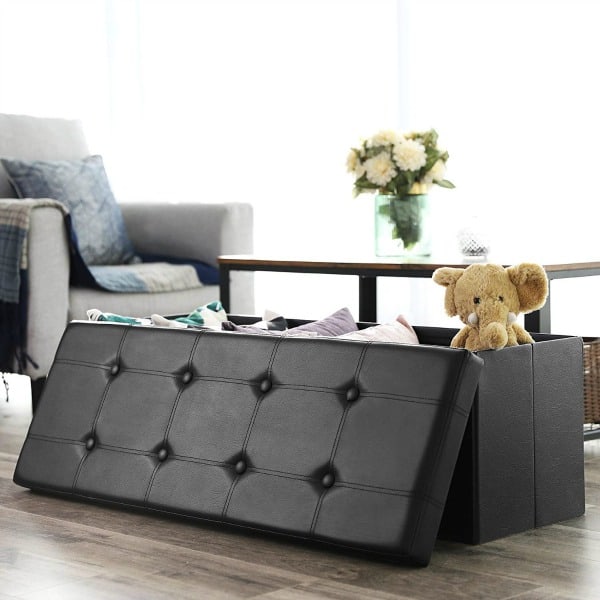 Toy Box With Shelves
One of the best toy box ideas I've seen is a toy box with shelves. I actually had one myself when I was little. The toy box was on the bottom and had doors that slid back and forth on both sides. Then the shelf was on the top. Of course now they have much prettier versions that would work great for organizing the living room.
I hope you found this post helpful regarding how to organize toys in the living room.
If you have any additional ideas, please leave them in the comments below, I'd love to hear them!
If you enjoyed this post, please Pin it!