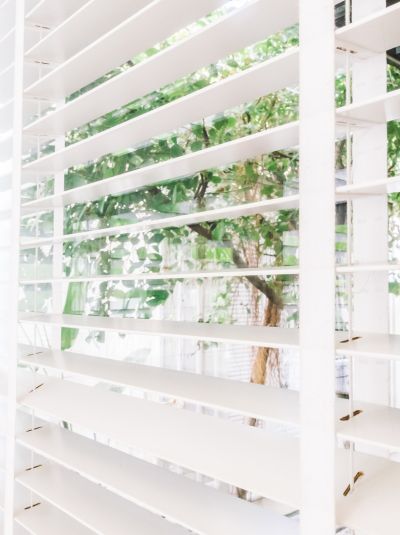 Window blinds offer a perfect blend of form and function to control light and enhance the aesthetic appeal of your interior spaces. They come in various styles, colors, and materials, catering to a broad spectrum of tastes and decor preferences. 
Whether you prefer the timeless elegance of traditional Venetian blinds, the sleek modernity of roller blinds, or the rich texture of Roman blinds, you will surely find a design that complements your interior design scheme. 
This guide aims to explore the diverse world of window blinds, providing insightful information to help you make an informed choice for your lighting control needs. 
Benefits of Window Blinds
Window blinds offer many benefits that make them a popular choice among homeowners and interior designers alike. Here are some advantages of using window blinds:
Light control

– With adjustable slats or panels, window blinds allow you to control the amount of light entering your space, giving you flexibility in brightness and privacy.

Energy efficiency

– By blocking or filtering out sunlight, window blinds can help regulate indoor temperatures, reducing the load on your heating and cooling systems.

Aesthetic appeal

– Window blinds come in a wide range of styles, colors, and materials that let you add character and texture to your windows, elevating the overall look of your room.

Easy maintenance

– Most window blinds are made from durable materials that are easy to clean and maintain, making them a practical choice for busy households.
Types of Window Blinds
Window blinds come in various styles, each designed to cater to different lighting control needs. Some popular types of window blinds include:
Venetian blinds

– These classic window treatments feature horizontal slats that can be tilted to control the light entering your space. They are available in various materials, including wood, faux wood, and aluminum.

Roller blinds

– As the name suggests, these window blinds feature a roll-up mechanism that allows you to adjust the height of the blind. They are available in different opacity levels, providing varying degrees of light control.

Roman blinds

– These soft fabric window blinds offer a touch of luxury and sophistication to any room. They come in various designs and patterns, making them a versatile choice for both modern and traditional interiors.

Vertical blinds

– Ideal for large windows or sliding glass doors, these blinds feature vertical slats that can be tilted to control light and provide privacy. They are available in various materials, including fabric, vinyl, and PVC.
Choosing the Right Window Blinds
When selecting window blinds for your home or office space, there are a few factors to consider:
Lighting needs

– Your choice of window blinds should align with your lighting control needs. For instance, if you need complete darkness for better sleep, blackout roller blinds would be a suitable option.

Interior style

– Window blinds come in various designs and materials, so it's essential to choose one that complements your interior decor scheme. A modern roller blind may look out of place in a traditional living room.

Budget

– Window blinds come in a wide price range, so it's crucial to set a budget and stick to it. Some materials, like genuine wood or high-end fabrics, may cost more than basic vinyl options.
How to Pick the Best Window Blinds
Here are some tips to help you choose the perfect window blinds for your space:
Consider the room's function

– The type of window blinds you choose may differ based on the room they are intended for. For instance, roller blinds may be more suitable for bathrooms and kitchens due to their moisture-resistant properties.

Test different materials

– Before making a purchase, it's a good idea to get samples of different materials and see how they look in your space. This will also help you determine which material is most suitable for your needs.

Think about maintenance

– Some window blinds may require more upkeep than others, so it's essential to consider this before making a decision. For example, wood blinds may need regular polishing, while PVC blinds can be easily wiped clean.
Can You Install Window Blinds By Yourself? 
Yes, with the right tools and instructions, you can install window blinds yourself. Most window blinds come with installation guides, and there are also online tutorials available to help you through the process. However, if you're not confident in your DIY skills, it's always best to hire a professional to ensure proper installation. If you want to work with professionals, visit their website today. 
Pros and Cons of Professional Installation
While installing window blinds yourself may seem like a cost-effective option, there are some pros and cons to consider:
Pros:
Saves money

– Installing window blinds yourself can save you the cost of hiring a professional.

Flexibility

– You have more control over the installation process and can do it at your convenience.

Satisfaction

– Completing a DIY project can give you a sense of satisfaction and accomplishment.
Cons:
Time-consuming

– Installing window blinds can be time-consuming, especially if you're not experienced in DIY projects.

Lack of expertise

– A professional installer has the necessary skills and tools to ensure proper installation, leading to better results and long-lasting performance.

Safety concerns

– Installing window blinds often involves working at heights, which can be dangerous without the proper equipment and training.
Conclusion
Window blinds are a stylish and functional solution for light control in any space. By understanding the different types of window blinds available and considering factors like lighting needs, interior style, and budget, you can make an informed choice that enhances your living space. 
Whether you install them yourself or hire a professional, window blinds are an excellent addition to any home or office. So, if you're looking for a practical and stylish way to control light in your space, consider investing in high-quality window blinds today!