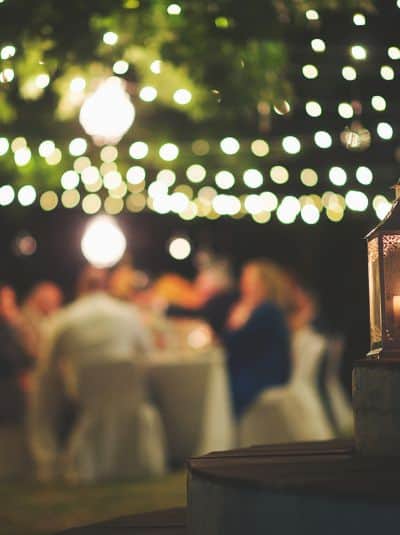 Are you brainstorming ideas for an unforgettable outdoor winter party? Look no further! String lights are the perfect way to bring a special glow to your intimate gathering and add a magical ambiance to any outdoor space. 
With their easy installation, durability, and versatility, you won't even have to sweat through your festivities setting up lighting—and while we definitely encourage bundling up in cute scarves or sweaters for these colder occasions, with the right string light decor, you'll be able to stay cozy indoors just as if it were summertime. Read on to find out how string lights can transform an outdoor winter night into something that's surprisingly pleasant and fun.
Why Are String Lights an Ideal Choice?
String lights, with their twinkling charm and aesthetic appeal, are an exceptional choice for outdoor winter parties. Their unique characteristics make them not just a functional source of light but also an enchanting decor element that adds warmth, comfort, and a festive spirit to your gatherings. Let's delve into the reasons that make string lights an ideal choice for your winter festivities.
Easy to Install
One of the significant advantages of string lights is their easy installation process. You don't need to be an electrical expert to set them up. With a few hooks or clips, you can hang them around your backyard or patio, creating a mesmerizing light display in no time.
Offer a Variety of Styles and Colors
String lights come in a broad range of styles, colors, and sizes. Whether you prefer the classic warm white or want to experiment with multicolor options, there's a string light that suits your style. 
You can choose from fairy lights, globe lights, icicle lights, or even themed ones to match your party's aesthetic. If you're having a hard time selecting the right style for your desired aesthetic, visit the website of an experienced professional to get some tips!
Durable and Weather-Resistant
Most string lights are designed to be weather-resistant, making them perfect for outdoor use. They can withstand winter conditions, including cold temperatures and snow, maintaining their glow throughout your party. This durability makes them a cost-effective lighting solution, as they can be reused for multiple events.
Create a Cozy Atmosphere
Finally, string lights create a cozy and inviting atmosphere, essential for any winter gathering. The soft, ambient light emitted by string lights gives off a comforting warmth that can make your outdoor space feel as cozy as your living room, encouraging your guests to relax and enjoy the party. Plus, they make for great photo backdrops!
Tips for Using String Lights at Your Outdoor Winter Party
Now that you know why string lights are an excellent choice for your outdoor winter party, here are a few tips to help you use them effectively:
Experiment with different hanging techniques, such as draping them over tree branches or wrapping them around pillars.

Opt for warm white lights for a classic and elegant look, or add some color with multicolor string lights.

Hang them at varying heights to create depth and dimension in your space.

Use battery-operated string lights if you don't have access to an outdoor outlet.

Combine string lights with other winter-themed decor elements like candles, lanterns, or blankets for a festive touch.

Consider using string lights with a dimmer function to adjust the brightness according to your party atmosphere.

Arrange the lights to guide your guests, illuminating pathways and highlighting important areas like the food and drink station.

To add a whimsical touch, intertwine the string lights with garlands or hang them in glass jars.

Consider the use of solar-powered string lights for an eco-friendly lighting solution.

Incorporate string lights in your table decor by weaving them through centerpieces or around serving platters.

For safety, ensure that the extension cords used are rated for outdoor use and are kept away from areas where guests might trip over them.
Additional Outdoor Winter Party Decor Tips
Beyond lighting, there are numerous ways to enhance the ambiance of your outdoor winter party and make it a memorable event for your guests. With creativity and attention to detail, you can transform your exterior space into a warm and inviting winter wonderland. Let's discuss additional decor tips to complement your string lights and create the perfect party atmosphere.
Use Warm Blankets and Cushions
Adding warm blankets and cushions to your outdoor seating not only provides comfort for your guests but also contributes to the cozy atmosphere. You can choose colors that match your decor theme or opt for festive patterns. Placing these items on your outdoor furniture not only makes your space more inviting but also encourages guests to stay and interact despite the cold.
Set Up Fire Pits or Outdoor Heaters
To keep your guests warm during your outdoor winter party, consider setting up a fire pit or outdoor heaters. These elements not only provide warmth but also add an appealing visual element to your party. A fire pit, in particular, can serve as a central gathering spot where guests can huddle around and enjoy warm conversations.
Embrace the Winter Theme
Embrace the winter season by incorporating winter-themed decor elements. You could set up a hot chocolate bar, hang snowflake decorations, or use pine cones and evergreen branches as table centerpieces. These details can help to immerse your guests in the winter theme and make your party even more enchanting.
Use Candles for Additional Lighting
Candles can be a beautiful addition to your string light decor. They provide soft, warm light and make your space feel even cozier. You can use them as table centerpieces, place them in lanterns along pathways, or float them in water-filled bowls for a magical effect.
Play Soothing Background Music
Finally, don't forget the power of music. Play some soothing background tunes to set the mood for your party. You could opt for classic holiday songs, jazz, or any music genre your guests will enjoy. Ensure the volume is balanced—not too loud to hinder conversation, but audible enough to add to the overall ambiance.
Conclusion
In conclusion, string lights are a perfect choice for adding warmth and charm to your outdoor winter party. Their versatility, ease of installation, durability, and ability to create a cozy atmosphere make them an essential element in any outdoor winter event.
Use our tips to incorporate string lights into your decor effectively, and consider complementing them with other winter-themed elements for a truly enchanting experience. With the right lighting and decor, your outdoor winter party will surely be a hit! Get ready to bundle up, light those string lights, and enjoy a magical evening with your loved ones.