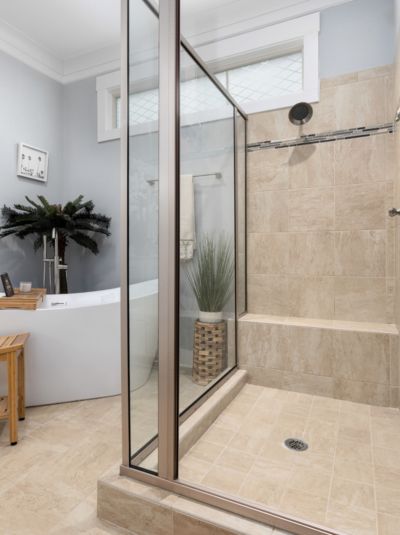 The introduction of glass shower doors into interior decor was a pivotal moment that revolutionized the look and function of our homes. This seemingly simple upgrade ushered in a new era of elegance and sophistication, transforming mundane bathrooms into luxurious personal spas. 
Beyond aesthetics, these doors also brought immense practicality, optimizing the use of space and enhancing the overall functionality of the bathroom. Let's delve into how glass shower doors have made a significant impact in both the world of interior design and the day-to-day lives of homeowners. 
How a Glass Door Makes a Difference
Gone are the days of bulky and clumsy shower curtains that hide away the beauty of a bathroom. With glass shower doors, you can showcase stunning tile work and fixtures while maintaining privacy and preventing water leakage. 
The clear glass panels create an illusion of space, making even the tiniest bathrooms feel larger and more open. This is especially beneficial for smaller homes or apartments where every inch of space counts. 
Moreover, glass shower doors can be customized to fit any bathroom layout and style. From traditional hinged doors to sleek, frameless designs, there is a perfect glass door for every aesthetic. This versatility allows homeowners to truly make their bathrooms their personalized haven.
Functional Advantages
Apart from adding visual appeal, glass shower doors also provide practical benefits that elevate the functionality of a bathroom. 
For starters, cleaning and maintenance are much easier with glass doors than traditional curtains. The surface is smooth and non-porous, making it resistant to mold and mildew. Additionally, there are no crevices or folds for bacteria to thrive, ensuring a more hygienic bathing experience.
Glass shower doors also offer better protection against water spillage. The tight seal created by the door prevents water from seeping onto the bathroom floor, reducing the risk of slipping and falling. This is especially important for households with children or elderly individuals. 
Furthermore, these doors allow for better ventilation and natural light in the bathroom. The lack of obstructions allows air to circulate more freely, reducing moisture and preventing unpleasant odors. Natural light also helps create a bright and airy atmosphere, making your bathroom feel more welcoming and inviting.
Environmental Impact
In addition to improving the appearance and functionality of a home, glass shower doors also have a positive impact on the environment. 
Unlike shower curtains that need to be replaced every few months, glass doors are durable and long-lasting. This reduces waste and eliminates the need for frequent replacements, making them a more sustainable option. 
Moreover, glass is a recyclable material, meaning old shower doors can be repurposed rather than end up in landfills. By choosing glass doors over curtains, homeowners can contribute to reducing waste and carbon footprint.
Increased Value 
Last but not least, introducing glass shower doors has also added value to homes. As mentioned, these doors are customizable and can be tailored to fit any style or layout. This means potential buyers will see them as a desirable feature that adds aesthetic appeal and practicality to a bathroom. As a result, homes with glass shower doors have higher resale values than those without.
Safety Considerations for Glass Doors 
While the benefits of glass shower doors are undeniable, it's important to address safety concerns. Due to their transparency, some may worry about the risk of accidents or lack of privacy. 
However, modern advancements in glass technology have made these doors safer than ever before. Tempered glass, for example, is four times stronger than regular glass and shatters into small granules instead of sharp shards. Additionally, various options exist for frosting or tinting the glass to enhance privacy without sacrificing natural light.
Tips on Selecting Your Perfect Door 
When selecting the right glass shower door for your bathroom, there are a few things to consider. 
Firstly, determine the available space and layout of your bathroom. This will help you decide if a hinged or sliding door is more suitable. Additionally, consider the overall design aesthetic and choose a style that complements it.
Next, consider the type of glass and its thickness. This will depend on personal preference, budget, and safety concerns. 
Lastly, don't forget to factor in maintenance requirements and warranties offered by the manufacturer. If you need more tips, click here to talk to a professional team that knows all there is regarding glass doors. 
Creative Ideas for Those Who Want to Stand Out 
For those looking to add a unique touch to their bathroom, there are plenty of creative options for glass shower doors. 
One idea is incorporating patterns or designs onto the glass using etching techniques. This adds visual interest and can tie in with other decorative elements in the bathroom. 
Another option is to use frosted or textured glass for a more subtle yet elegant look. This not only enhances privacy but also adds a touch of sophistication to the bathroom.
Maintenance Tips for Glass Shower Doors 
Regular maintenance is essential to keep your glass shower doors looking pristine and functioning properly. Here are a few tips to help you keep them in top condition:
Use a squeegee or microfiber cloth to remove water droplets after each use. Although this may sound daunting, it only takes a minute and significantly reduces the build-up of water spots.

For tougher stains or soap scum, use a mild cleaning solution made specifically for glass. Avoid using harsh chemicals that can damage the surface.

Check the door's hinges and tracks regularly for any signs of wear and tear. Lubricate them as needed to ensure smooth operation.

Avoid using harsh chemicals or abrasive cleaners that can damage the glass surface.

Check and replace worn seals or strips to ensure a proper seal and prevent water leakage.

Regularly clean the tracks and rollers to prevent the build-up of dirt and grime that can affect the smooth operation of the door.
Conclusion
In conclusion, glass shower doors have significantly impacted the world of interior decor and bathroom functionality. From practical benefits to environmental impact and increased home value, these doors offer numerous advantages that make them popular among homeowners. 
With proper maintenance and creative design options, they can truly transform any bathroom into a luxurious haven. So go ahead and consider upgrading your shower with a beautiful glass door – it will make all the difference.