Hey you there, new stay at home mom…how's it going?
I bet when you started this journey, you were sure you'd be a successful stay at home mom.
You probably never thought you'd be looking at posts about how to be a happy stay at home mom now, did you?
Maybe this was a dream you had since you were a little girl.
Being at home with your babies.
Taking care of them.
Focusing on them.
Loving them.
But then, life happened and you realized that it's not all sunshine and rainbows.
Maybe you're wondering how to feel fulfilled as a stay at home mom.
Or where's the joy that you expected to have, the delight you see other moms have?
You can have it mama, you really can.
I'm going to share a few tips to help you be a happy stay at home mom.
How to Enjoy Being a Stay at Home Mom
Focus on the Right Things
How do you know what 'the right things' are?
Well, let me tell you.
The right things are anything that has to do with your life and your family.
Which means DON'T FOCUS on what other moms are doing!
Trying to keep up with the Joneses (or the latest and greatest mom on Instagram) will only leave you feeling defeated, depressed and overwhelmed, trust me.
And that's not a place you want to go.
Keep your eyes in your own lane!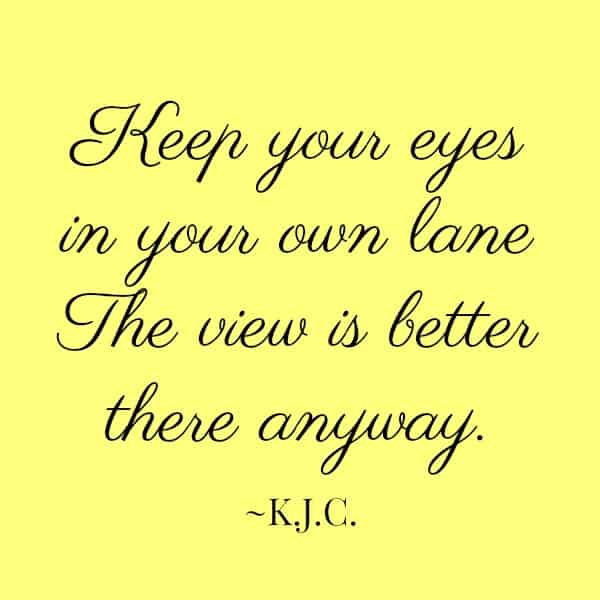 Put forth all your energy towards what you can do to make life better for your family.
Do the best YOU can, with what you have, where you are.
Stay Motivated
I know it's hard, especially when you're suffering from sleep deprivation. But try to stay motivated to do your regular stay at home mom duties.
What helps is having a schedule, although it will probably take some time before you're able to implement one if you have a newborn as they can be unpredictable.
But if your kids are older babies, toddlers, or preschool age, having a stay at home mom schedule will definitely help  you.
The point here is to get up and do things.
I never understood stay at home moms who got bored.
Seriously, there is always something to do!
So if you need bored stay at home mom ideas, I'll have a post on that coming soon!
Related: Is a Stay at Home Mom Schedule Right for You?
Know Your Value
Being a mom is an important job, and don't ever let anyone tell you otherwise!
Just because you aren't earning a paycheck doesn't make your contribution to the world any less valuable.
Motherhood matters!
As a stay at home mom for over 20 years (26 to be exact) this is something I'm super passionate about.
In fact, it's the main reason I started blogging in the first place.
I wanted to encourage moms who dedicated their lives to staying home and raising their children.
To let you know you're not alone.
You're not 'less than' as a woman because you aren't employed outside the home.
You are valuable, important, and what you do every single day matters!
I've always loved the quote below:
It speaks to me and I hope it resonates with you as a stay at home mom as well.
Be Grateful for Everything
I start each day by writing 5 things I am grateful for in my gratitude journal.
Even when I feel overwhelmed, discouraged or like I can't seem to get a handle on things.
I choose 5 things.
It can be anything at all, from my family, to the coffee I'm drinking to being able to get out of bed in the morning.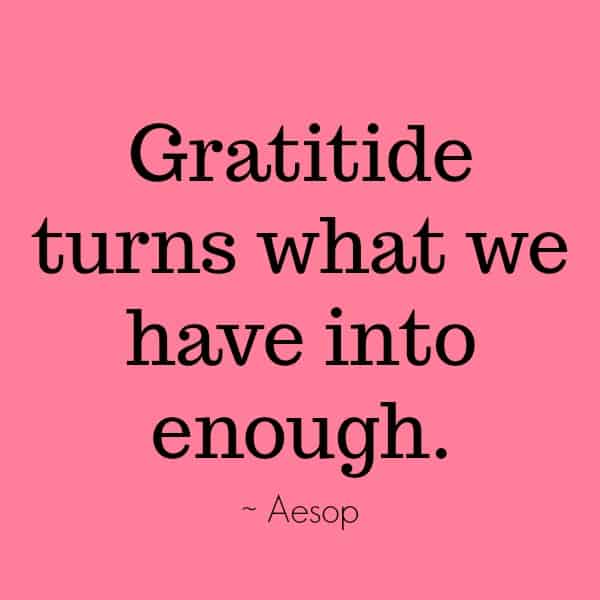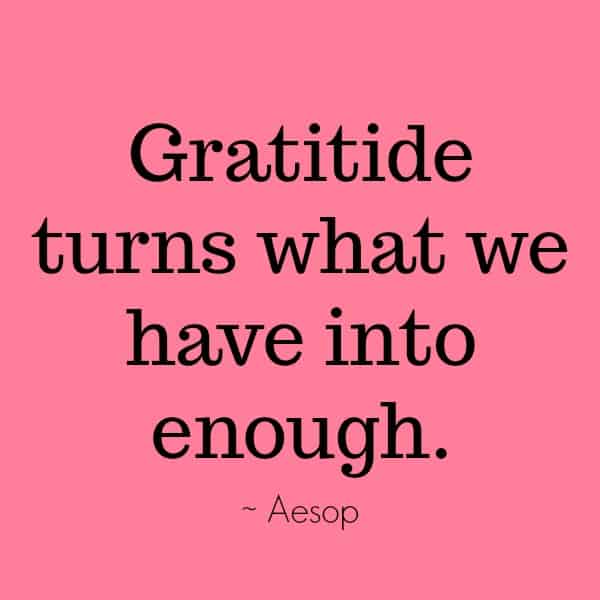 It's so easy to focus on what we want and what we don't have.
But when we take the time to be grateful, it really does improve our disposition.
Especially when you look around and see all you really have to be thankful for.
Your life might not be perfect (no worries, mine's not either!).
But there is always something to be thankful for.
Tips for Thriving as a Stay at Home Mom
Take Care of Yourself
Yes, this means doing your best to eat right, get enough sleep and do some form of exercise.
It also means making sure you take time for yourself now and then.
I know it can be challenging, especially if you have a baby.
But it's SO important.
The last thing you want to do is resent your husband (who I'm guessing gets out of the house more often than you do) or worse, your children.
If you 're still discovering  how to be a happy stay at home mom, please put "Me Time" on your list of priorities.
Related: The Best Mom Alone Time Ideas
Give Yourself Grace
Let me tell you something right now…you will fail as a mom, sometimes on a regular basis.
You're not always going to do everything right, no matter how hard you try.
So the sooner you learn to give yourself grace, the happier you will be.
When you mess up, do what you can to fix it.
Ask for forgiveness (if and when necessary) and move on.
No mom is perfect (no matter what their life looks like on social media) and you certainly won't be an exception.
Focus on being the best mom you can be.
You'll get better and better as the weeks, months and years go by.
Remember, progress over perfection.
Learn to Laugh at Yourself
Some days you'll get the house cleaned, spend time with the kids, and have dinner planned out and ready at a decent time.
Other days, you won't even shower.
One of my best tips for being happy is to laugh as often as you can!
They say Laughter is the best medicine, and I believe it.
Happy people laugh more often.
And as a mom, things can get so crazy…sometimes you have to laugh or you'll cry!
That's okay.
Don't take yourself too seriously, and always look for an opportunity to laugh!
Let's sum up the habits I've mentioned above.
Habits of a Happy Stay at Home Mom
Focus on Your Family
Stay Motivated
Know Your Value
Be Grateful
Take Care of Yourself
Give Yourself Grace
Learn to Laugh at Yourself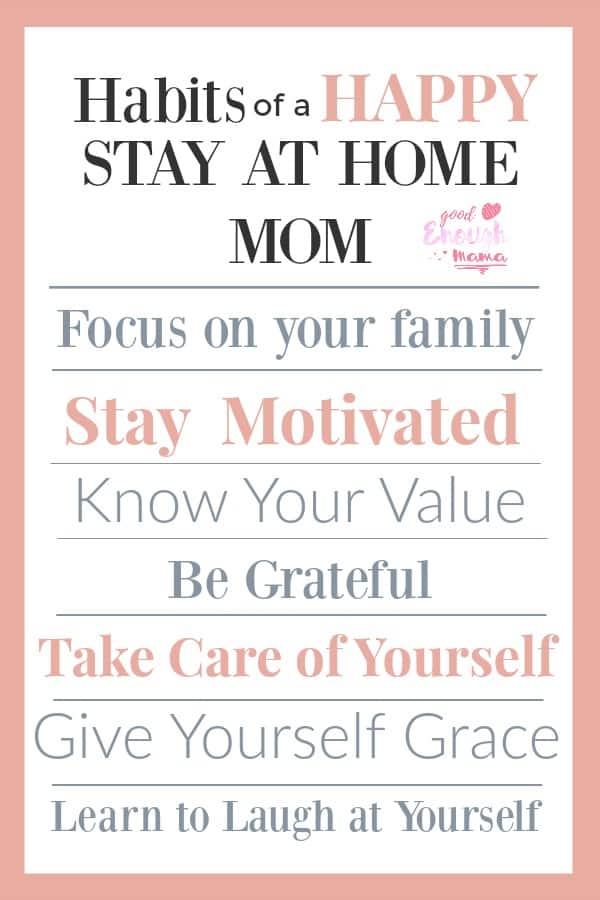 I hope these tips on How to be a Happy Stay at Home Mom have encouraged you in your motherhood journey.
If you found this post helpful, please Pin it!