Let's get honest for a minute, shall we?
As much as I wish this wasn't true, the fact of the matter is that for most of us, choosing to be a stay at home mom means that we will have to make sacrifices so we can spend more time with our kids.
Many of those sacrifices include finding ways to save money, typically by giving up those things that, although we love them, we can usually do without.
But that's not always the case!
In this post you will find alternate ways to save money without feeling like you have to give up everything that's important to you.
Here are a few Easy Ways to Save Money as a Stay at Home Mom that will help you see how small changes can make a big difference.
Cutting Out Coffee
No, I don't mean give up coffee altogether (what am I, a lunatic?!) but give up those trips to your favorite drive through coffee stand. Or at least cut back and reserve them for a special treat.
It might not seem like much money, but seriously add up how much you spend in one month on your coffee addiction, then multiply it by 12…see where I'm going with this?
You can actually make a great cup of coffee at home with all of the fancy schmancy coffeemakers these days, even though I myself am satisfied with my good old Hamilton Beach BrewStation. Although I do splurge a little on my favorite coffee and Coffee-mate French Vanilla Creamer (sorry coconut, it was fun while it lasted, but time for something new!).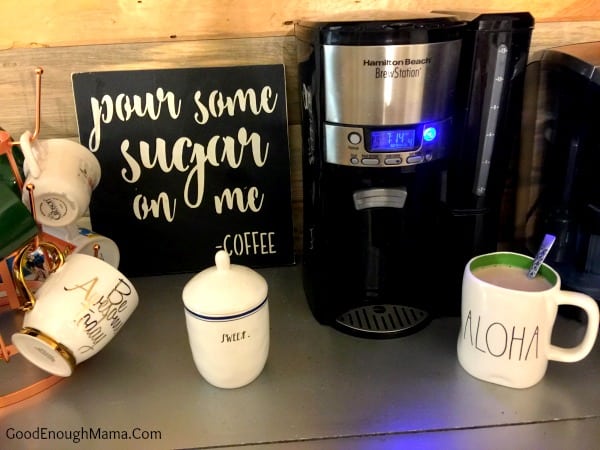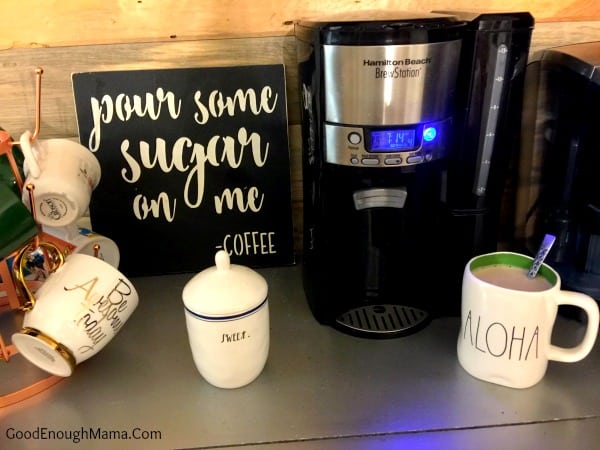 Cancel Your Gym Membership
I know, I know…you love going to the gym and working out. (Or if you don't, feel free to skip to the next tip!)
But you actually can do this at home, and save yourself both time and money. Going for a walk or jog pushing your stroller is a great workout!
And if you have too many kids to actually do that, there are some great workout DVD's that you can throw on and get your sweat on. Or stream your favorite workouts on demand.  The kids might actually get in the groove with you and work out (or at least jump around a bit) too!
Or you can be like me and just avoid it altogether…but that's totally another post!
Save Money on Household Products
How do I do this? It's easy…by eliminating extra trips to the store.
Let's face it, even when you think you're running in for 'a couple things', it always turns into a more expensive trip than you had planned, especially when you bring the kids along.
By shopping online and buying only what I need and having it delivered right to my door, I not only save money, but time, too (and if you've ever had to take four kids to the store, you know exactly what I mean!).
If you're interested in trying this out for yourself, here's the service I use.
(If you're looking for a good cleaner, you have to try Mrs. Meyer's Clean Day Multi-surface spray…it actually has me wanting to wipe down my kitchen counters, and yeah, I just said that!)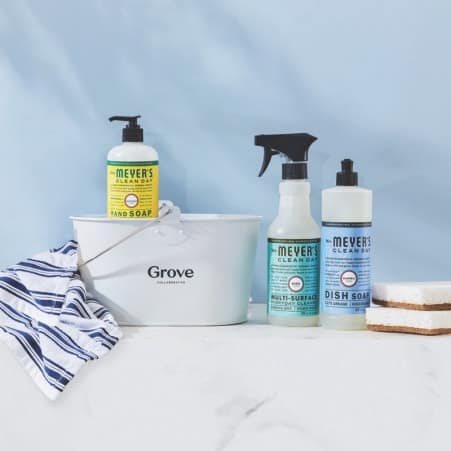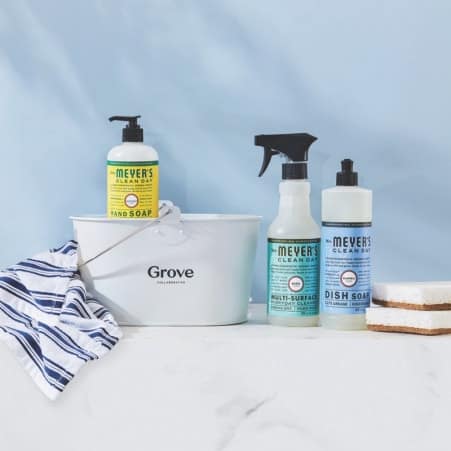 More Money Saving Tips for Stay at Home Moms
Stay at Home Mom Clothing
This might be hard for you. Especially if you had a job before you were a stay at home mom where you dressed up every day.
But the fact of the matter is, your kiddos do not care if you're in a fancy dress or sweatpants and a t-shirt. (Plus, who likes to vacuum in heels?)
Now this doesn't mean you shouldn't have something nice to wear for those trips out. Oh and date nights with the hubbs.
But for every day attire, think inexpensive comfort, not top of the line luxury…if you know what I mean. Trust me, it's more important to be comfortable…your body will thank you for it!
You can also save money by shopping with sites like Rakuten, Schoola and ThredUp.
Rakuten gives you cash back on every purchase, even at your favorite (and reasonably priced…remember, we're saving money here) clothing stores. I mean hey, if you have to shop for clothing, why not earn a little money when you do so?
I use Rakuten every time I shop online. It's very simple and you can use it at almost any site at all. If you're interested, you can check it out here.
Schoola is a site that has quality used items at a fraction of the original cost.   Plus they give 40% of all sales to schools, isn't that wonderful?  Use my special link and receive $10 to get started shopping right now!
ThredUp has some really nice women's (and children's) clothing at really great prices. Their clothes are secondhand. You can even sell your own clothing to earn money toward your own clothing purchases (or anything else of course).
You can get $10 to put toward your first order at ThredUp here!
When you make money as a stay at home mom, it makes it easier to save money. Because you have to spend less money you originally had in your budget. Make sense?
Related: The Best Purses for Moms With Toddlers
Get Picky With Your Shoes
This was hard for me at first as I always had a closet full of shoes. But over the years it's become much simpler.  Mostly because I'm always barefoot, ha ha!
But the truth is, how many pairs of shoes do you really need?
A good pair of tennis shoes, dress shoes, and boots, and the rest of my shoe collection is flip-flops! (Okay I admit it, sometimes this can be challenging! I live in Oregon, so I don't wear flip-flops as often as I like. But when it's not raining, they're on my feet!)
I know, I know, you want pretty shoes. I get it, I really do.
So once in a great while, treat yourself to a pair or two from sites like Shoe Dazzle, where you can get gorgeous shoes at reasonable prices.
But again, only once in awhile. By not spending money on these regularly, you should be able to swing a pair or two. At least every now and then.
What did you think of these easy ways to save money as a stay at home mom? Let me know in the comments, I'd love to hear from you!
If you found this post helpful, please Pin it!