If you're looking for tips on how to spend quality time with your child, you've come to the right place!
Quality family time is so important, but yet with busy schedules, often gets put on the back burner.
And when you find you have a little time to spend together, it's easy to sit and think, "now what should we do?'
Never fear! I've come up with a list of ideas to help you discover how to spend quality time with your child.
So let's get started!
Fun Things to Do With Kids
Family Game Night
Game night is a cheap way to spend time with your kids that is also super fun!
One of the only challenges is if you have kids far apart in age, it might require a different game for each age bracket.
But I've found many times the older kids don't mind joining in and playing a game with the younger kids. It's actually a great way to spend quality time with family!
Have a look at these family game night ideas from Money Crashers!
Cooking Together
I have to say, I wish there was more of this going on in my house.
Oh don't get me wrong, my girls will help me if I ask them to.
And once in awhile they might even decide to cook a meal for the family themselves (usually with mom's help).
But I would love it if I had help in the kitchen every night.
Yes, maybe because I don't love to cook, LOL.
But I also honestly think it's a wonderful way to connect with family and spend time together.
When you cook together, you converse, and not only about the recipe.
Plus, usually a family who cooks together also eats together. And eating together is another great way to connect, and one that seems to be happening less and less this day and age.
Movie Night
I have to say, this is one of my favorite ways to hang out with my kids.
Sure, it involves the TV and sometimes sitting quietly while we're involved in the movie.
But we also talk. If not during the movie, then we discuss it afterward.
We're big movie buffs at my house, and my kids have an array of movie downloads. Each child has their favorites, and when we have a family movie night, we take turns letting them choose what we watch.
This is one of our family's favorites!
Going to the theater is a treat (and expensive with a large family), but another great way to hang out with your kids.
But personally, I'll take a movie and bowl of popcorn on the couch in my pajamas with my fuzzy blanket any day of the week!
Tip: If you have a large family, give kids each their own popcorn bowl! Much less fighting and you don't have to hear "pass the popcorn" throughout the entire movie!
Arts & Crafts
My girls love making slime. But whether your kids like painting, making jewelry, working with clay, or anything else, connecting through crafting is so much fun.
It's neat to be able to create something from nothing and many times learn something new together.
My daughter has even gone on to selling her crafts at a local fair during the holiday season.
If your kids aren't into arts and crafts, insert any other hobby here. You can play basketball or football, science projects, play instruments or do a puzzle.
The main thing is that whatever you're doing, you're doing it together!
Quality Time Activities
Most of us are short on time. And even though of course we want to take special time for the kids, it can be a challenge to fit it in the schedule.
When this is the case, try spending  time with family during regular household activities.
Meal Planning
My kids actually enjoy helping me meal plan. We sit around the table, and everyone comes up with something they'd like to see on the menu for the week.
In this day and age of the internet, it's easy to do. Between Tasty and Pinterest, the kids get on their phones and before I know it, I have a couple new menu suggestions and recipes to try.
Plus, this is a great way to make sure there's something they want to eat on the  menu!
Grocery Shopping
I will admit, some of my kids like this more than others.
It's not so much the act of grocery shopping that excites them, but the fact that they get to spend quality time with mom (and often dad too).
Often only one child goes at a time, so they get our undivided attention during the car ride to the store and back, and while we shop.
Laundry Folding
Not gonna lie, this isn't a favorite way to spend time together for any of my kids, mostly because they just don't like folding laundry.
But we have had some good conversations around our laundry pile.
Sometimes I get all the kids together, and we dump a basket or two in the middle of our bed. It's amazing when we're all talking and working together, it goes so much faster!
It's actually nice because we really communicate during this time as folding laundry doesn't require any concentration at all. I'm able to fully engage in the conversation whether it's with one child or all of them.
Decorating
This is something that I've done with my two youngest girls recently. They are at the age where they enjoy helping me decorate the house and rearrange rooms.
Sometimes we spend an hour or two rearranging items in the kitchen and dining room area (where much of my decor is kept), cleaning countertops, and deciding what should go where.
They love shopping for home decor too, just like their mama!
It's a super fun way to spend time with your children, even if they're little.
Let them help you decide which throw pillows to put on the couch and where they should go.
Or help you fold up the throw blankets and put them in their place.
Spending Individual Time With Each Child
One on one time with each child is so important! Unfortunately, it often gets overlooked, especially  if you have a large family like I do.
The hustle and bustle of everyday life when there is so much to do doesn't make spending one on one time with your kids easy. But, it is definitely possible.
Now I realize that due to time or budget constraints, you might not be able to do this as often as you wish.
Depending of course on the ages of your children and the activities they enjoy doing.
That being said, sometimes spending quality time with your child individually can be as simple as letting them hang out with you for the day, or stay up extra late at night for some special mommy time.
Related: Find tips on saving money as a stay at home mom here!
If your kids are older like mine, this could mean a special lunch date or partaking in their favorite activity.
Whatever they choose will be special to them.
Spending Time With Kids Quotes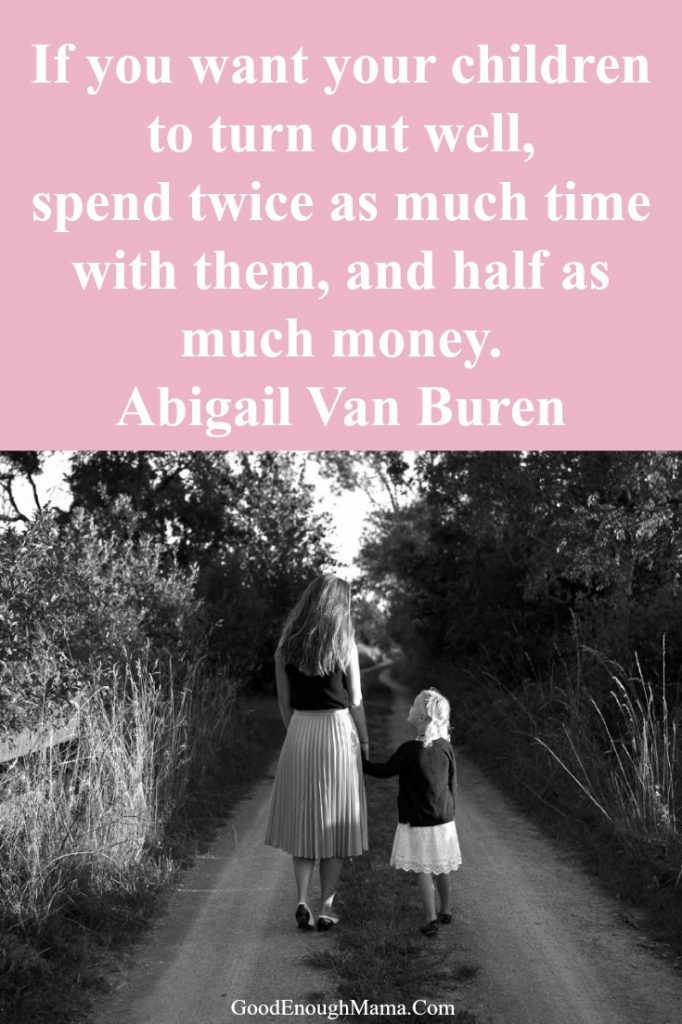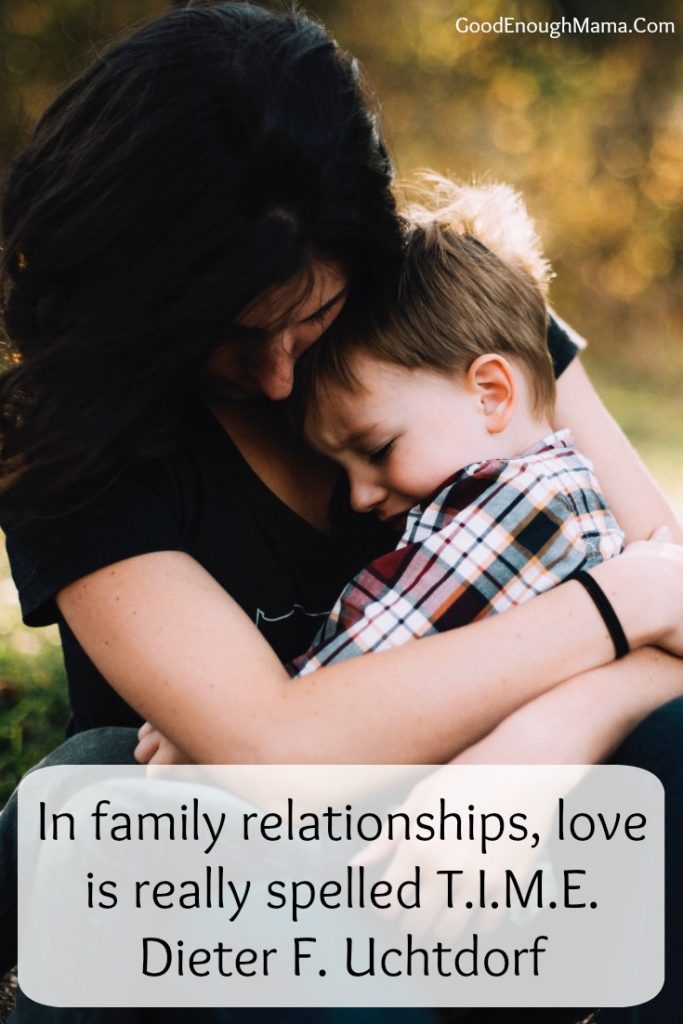 I hope this post on how to spend quality time with your child has given you a few new ideas. Remember, it's not about doing anything fancy or expensive. It's about making spending quality time with the family a priority, even amidst a busy schedule.
If you enjoyed this post, please pin it!