I'm on the hunt for the best purses for moms! As a mom of four myself, I remember when my kids were toddlers and I needed to make a quick trip out. I didn't always want to pack a full diaper bag, but I still needed to carry something large enough to bring my kid's must-haves.
Nowadays there are many different styles of bags for mothers out there. What you choose is really a matter of your needs , personal preference and your budget.
Related: How to Afford a Baby on a Tight Budget
If you're ready to switch from your diaper bag to a purse but still need room to carry a few of your toddler's things, this post is for you!
But first, I have a confession to make: I'm kind of a handbag addict. Or a purseaholic. Whichever term you prefer, ha ha!
So putting together this post was outright fun for me.
And easy, too. Because browsing purses online is something I've been known to do in my free time.
Going anywhere with a toddler is a challenge, as I'm sure you know.
Having the right bag makes it just a little bit easier.
My Picks for The Best Purses for Moms With Toddlers
There are a few very popular styles of mom purses, you can find out more about them (including links to buy) below.
Best Crossbody Bag for Moms
I looked at quite a few bags that just weren't going to cut the mustard before finding this NeatPack Crossbody Bag.
Most crossbody bags tend to be very narrow, which is fine for packing a diaper or two, but not much else.
But this particular crossbody bag would be great for moms with toddlers because there's actually room to carry a sippy cup, diaper, wipes, a few small toys and their favorite snack!
They also offer a 100% money back guarantee which I thought was super cool!
It does come in several colors but I'm a die-hard fan of black.
And it's super affordable, usually under 40 bucks (but prices can vary so be sure to check before you buy).
The only negative is that if you're looking for a fancy mom purse, this probably isn't the best choice.
It's made of nylon and I think it actually looks more like a travel bag.
But hey, it's a step up from a diaper bag, so it works for me!
Hobo Bag Purse
I love this style of bag because it really is large enough to carry everything from a spare diaper to a sippy cup, yet you can find really stylish hobo bags! (If that's what you're looking for!)
I've found hobo bag purses in leather and cloth, depending on the style you want.
I personally have one that's cloth and I love it. The handle is long enough to wear as a crossbody bag if I want to.
In my search I found this amazing hobo bag from Realer and I have to say, I'm in love!
It comes in a wide assortment of colors and I just love the look!
This would go from daytime to nighttime in a flash, all you need to do is empty out the kid stuff and add your makeup, LOL!
Seriously, remove the long strap if you wish and use the short handles for a stylish mom purse!
The Best Mom Tote Bag
Tote bags are my weakness!
Although my purses are getting smaller these days now that my kids are older, I was known for carrying around huge tote bag purses when the kids were younger.
I loved having a bag that I could fit anything and everything in but that wasn't a diaper bag.
And if it had a separate section or outer pockets, even better!
The sweet thing is, you can find this type of bag almost anywhere.
I've snagged a few on clearance at Target and Walmart for literally around 5 bucks or so.
I just use them until they fall apart (or I get tired of them) and then get another one.
Faux leather totes like the one below are all the rage these days and I really like the style as well.
I know they have them at most stores and they're quite affordable, although if you have a bigger budget, you definitely can spend more on one.
Tote bag purses are great, and in my opinion, one of the best purses for moms with toddlers.
You can take them to the mall, the beach, or on any family outing and know you have room to store the extras your child will need.
Related: How to be a More Confident Mom
Mom Backpack for Toddlers
Maybe a purse isn't your thing, but you're still so over the traditional diaper bag.
Ever thought of trying a mom backpack? (Believe it or not, I just recently learned this was actually a thing!)
I mean sure, you could just use a regular backpack.
But why not get one that was especially designed for moms to carry around all the things a baby or toddler needs?
I found this one and I absolutely love it!
It does come in some nice colors, and would even be great for dad to carry as well. (That's what really sold me on this. Yes, honey, you can carry my purse please, ha ha!)
Best Mom Handbags- Additional Ideas
I was hesitant to include this next bag because I honestly don't think you can find it anywhere anymore, but I decided to because it's one of my favorites.
I did a review (on a previous website I owned) of The Butler Bag, you can read it here if you'd like.
It's a handbag with a built-in organizer, and it's amazing!
Not only could I fit the extras I needed to bring along for my toddler, but I could actually find them!
Everything sits in perfect view when you open the purse so I never had to dig down to the bottom of the bag looking for items.
I know you can purchase organizing inserts, but I really liked this bag as the organizer didn't come out, therefore didn't move around.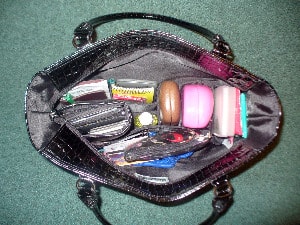 You can find handbag organizer ideas here if you're interested! 
Well, there you have it, some really great options for mom bags! To be honest, I could have included dozens more as I never tire of looking at purses!
I hope you found this post The Best Purses for Moms With Toddlers helpful.
If you enjoyed it, please Pin it!