If you're looking for the best tips for having a baby on a budget, you've come to the right place!
When I was expecting my first child, to say we had a tight budget is an understatement.
We actually were trying to figure out how to prepare for a baby with no money!
My husband had just started a new job and I wasn't working.
And let me tell you, having a baby when you're broke teaches you what you can and cannot do without when it comes to new baby expenses.
When you can't afford baby stuff, you have to get creative.
Here are ways to save money on baby items that will help you keep your budget on track.
Hand Me Downs
Getting used clothing from friends or family members can be a lifesaver when you don't have a lot of money to spend.
This also works well within your own family. You can save baby clothes from your first baby to pass on to your second, and so on.
Babies grow so quickly that often newborn clothing is like new even when it's been worn by one baby.
Handing down larger baby products such as high chairs, walkers, car seats (just make sure to check the expiration date!) and such can really save money on baby's first year.
Borrow
Maybe you have a friend who had a baby and is planning on handing down her baby's clothing and items to a sibling someday.
She might be willing to let you borrow the clothing, car seat, walker, or what have you, especially if she knows you're in a tight spot financially.
Because, you know, friends are great like that.
Garage Sales
This totally saved me when I had my first baby.
My mom loved going to garage sales, and her and I would go often during my first pregnancy.
I found some really great deals including a nice sturdy changing table that I wound up using for all four of my babies.
I also bought clothing, blankets, a baby seat and probably a few other things that I can't recall right now because, well, that was a long time ago.
Handmade
Do you have a talented mother, grandmother, aunt, or sister who's talented enough to make baby items? Or maybe you're that talented person?
Handmade clothing and baby blankets can be made inexpensively, especially if you use extra fabric you already have laying around.
And if you knit or crochet, even better! There's nothing like a warm, soft crochet baby blanket.
Check out this post for the easiest baby blankets to knit.
Coupons
When you think about preparing for a baby on a budget, does the word 'coupon' ever come to mind?
Yes, people still use coupons!
There are tons of ways to save money on baby products by using coupons, and you can even print them out at home.
You can save money on baby food, diapers, wipes and more.
Baby Registry
Creating a baby registry is probably the cheapest way to prepare for a baby, because you are choosing items for other people to buy for you as gifts!
It doesn't get much more affordable than other people purchasing your baby's products for you!
The most popular place to create a baby registry is, of course, Amazon (no surprise there I'm guessing!).
Shop Amazon – Create an Amazon Baby Registry
But if you're like me and love Target, it's also a good option.
Deal Sites
Now this is something I wish was around when I had my babies.
Deal sites allow you to get popular products at a very reduced price.
Usually the items are only available for a short window of time.
And often there is only a certain amount of the item available.
This means if you're interested, you have to snag the product right away as most items tend to sell out before the deal even expires.
Freebies
If you're having a baby on a low budget, freebies are something you'll want to look into for sure.
In fact, when you have a baby on the way and no money, freebies are the perfect solution because they are, well, FREE!
Believe it or not, there are all types of companies that offer freebies from small businesses to large corporations.
You just have to know where to look to find them!
Here are some freebies you can take advantage of today:


Just click on the links below to go place your order.
These are especially for my readers, so be sure to enter the coupon code GEM50 when you checkout to make sure your order is FREE!
Please note that with most of these offers, you do have to pay shipping and handling. And again, don't forget to enter your code GEM50 when you order!
If you're still wondering how to afford a baby on a budget, here are some additional ideas:
Save money before you get pregnant
If you're planning to have a baby, it makes things so much easier if you prepare ahead of time.
Like, before you're even pregnant.
Start a savings account especially for baby items you will need to get.
There are many recommended ways to save money over the course of a year, but this is my favorite.
Saving money can be hard and those exorbitant savings plans you see online everywhere just aren't doable for most people.
That's why I like the 52 Week Savings Challenge as I feel it's a plan that most people can stick to over the course of a year.
Cut back on expenses
Most of us don't want to cut back on expenses, but if we're honest, we truly can.
Sometimes all it takes is a few small changes to make a difference.
Find easy ways you can save money if you're a stay at home mom in this post!
Earn extra money
Maybe you can do a little work from home that will help you afford this new baby.
There are many ways to work from home including the following:
Become a Virtual Assistant
Sell your Handmade Products on Etsy
Operate a Daycare out of your home
Become a Blogger
Join a Direct Sales Business
This is a great site to find work from home info if you're interested!
Want to save this info for later?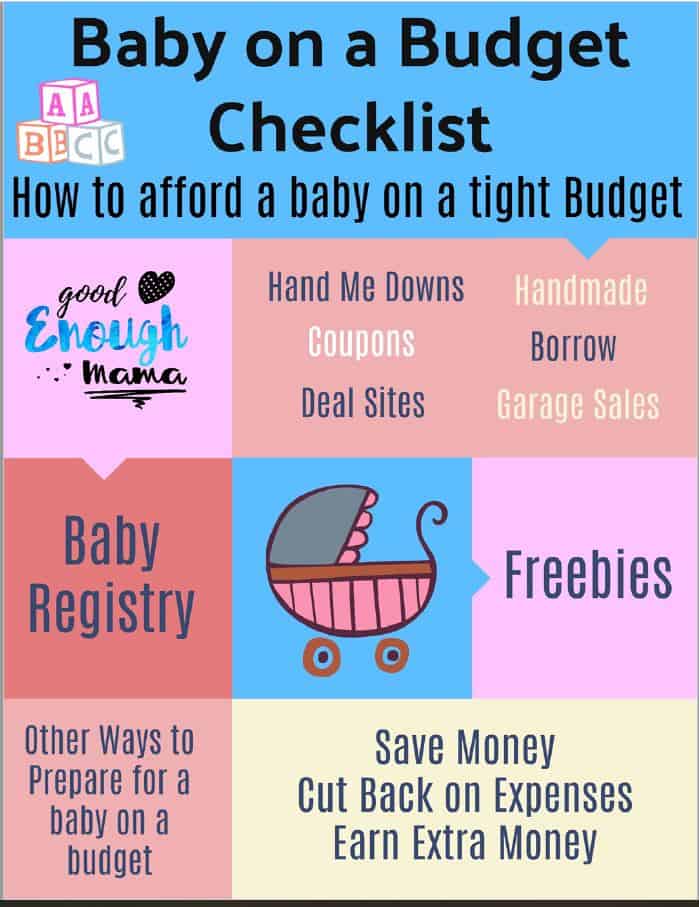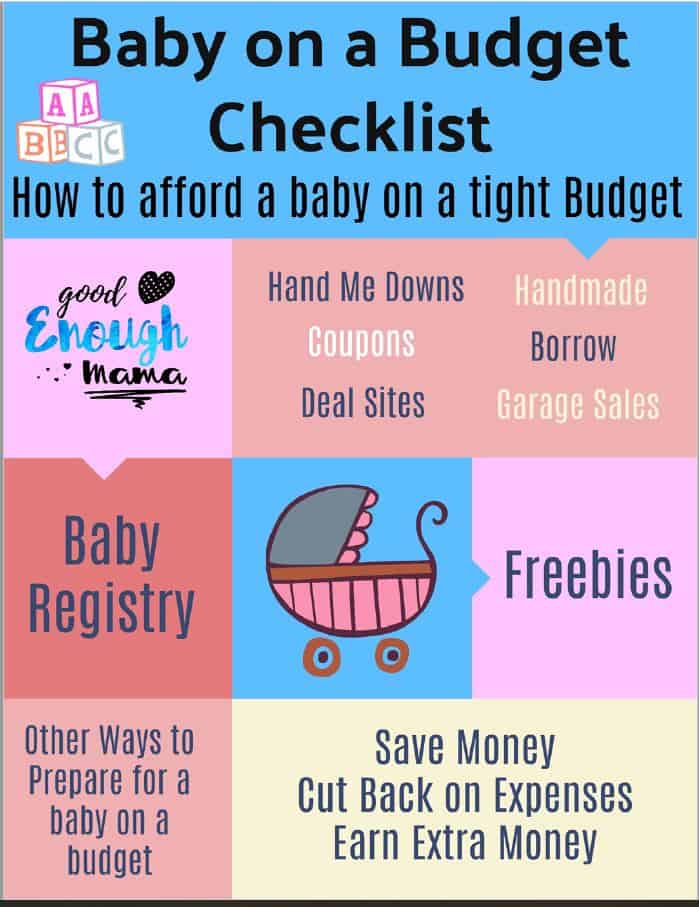 I hope this post on how to afford a baby on a tight budget has been helpful!
If you have any additional ideas, feel free to drop them in the comments so everyone can benefit.
If you enjoyed this post, please Pin It!